SpyGlass Inspection Services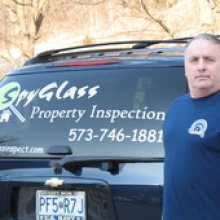 SpyGlass Inspection Services
Steve Wessler
31144 Highland Road
Eldon, MO 65072

Phone: 573-746-1881
Email: Click Here

Description of Services
Welcome to SpyGlass Inspection Services, since 2008. I am a Certified Professional Inspector (CPI) performing Residential and Commercial Property Inspections, FHA inspections, Mold inspection and testing, Radon testing, State licensed Septic and Lagoon inspections, Inferred inspection for moisture and Septic line camera inspection.
I cover (11) counties and my office is located in Mid Missouri at the Lake of the Ozarks.
I am here to assist you in making a informed decision about the property your buying. Most inspections uncover maintenance issues. However, the issues that really matter will fall into four categories:
Major defects, ( possible structural failure)
Items that could result in a major defect, (foundation leak)
Thing that may hinder your ability for use of the property, (Roof, HVAC, Plumbing, Electrical issues).
Missouri Areas Served by SpyGlass Inspection Services
Services & Areas of Expertise
Mold Testing
Radon Testing
Septic and Lagoon Inspection
Residential and Commercial Property Inspections
HUD/FHA Registered Inspector
Education & Credentials
(CPI) Professional Inspector
(InterNACHI) Member
Certified Radon Testing
Certified Mold Testing