Fogarty Inspection Services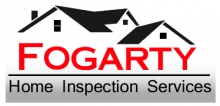 Fogarty Inspection Services
Sean Fogarty
3411 Long Hollow Rd
Knoxville, TN 37938

Phone: 865-256-5397
Email: Click Here

Description of Services
Why do more people choose our Knoxville TN Home Inspection Service? It's because of our previous customers. Any Knoxville, TN area home inspector can say how great they are, but our customers say it all. Please read our reviews. You can find them on Google or Yahoo and see what others have to say about our company. We guarentee your satisfaction! From Oak Ridge to Maryville, and Sevierville, Pigeon Forge to Lenoir City, nobody does it better!

We are a full service company.
There is no need to schedule multiple inspections. You will receive a comprehensive inspection report with your inspection. We use only the latest software technology to provide you with an easy to read, professional report.

Your inspector will be fully qualified and licensed by the state. In fact anyone associated with this company is highly qualified. From the microbiologists that perform our mold testing, to the BPI energy auditor who provides our full energy audits. We do not associate ourselves with anyone who is not skilled at their job.


Our inspection process goes beyond the State Standards required. Did you know only some windows or outlets need to be tested? A home inspection is very general and basic. Finding a Knoxville home inspector who to go beyond the basic standards should be a consideration. The time is taken on many inspections to investigate further, ensuring more issues are found if all possible.

We are first time home buyer friendly. The inspector will take the extra time needed to make sure you understand any findings. Don't feel like you are bothering us if you have questions later. Please feel free to call us at anytime after the inspection. We will be glad to help.


Tennessee Areas Served by Fogarty Inspection Services
Services & Areas of Expertise
Residential Home Inspections
Commercial Building Inspections
Infrared Thermography
Mold and Radon Testing
Energy Audits
Well Water Testing

Education & Credentials
State licensed and Insured InterNachi member