Acadiana Home Inspectors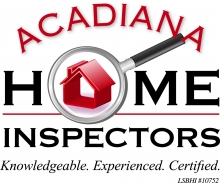 Acadiana Home Inspectors
Keith Blanchard
P.O.Box 58
Lafayette, LA 70506

Phone: 337-326-5772
Email: Click Here

Description of Services
INSPECT THE HOUSE BEFORE YOU MAKE A HOME

Whether you're buying or selling a home, having a professional home inspection from a leading home inspection company will give you peace of mind and assist you in a fair and smooth transaction.

Acadiana Home Inspectors is the premier home inspection company in your area. We have been trusted by home buyers to help make informed buying decisions. Our inspections range from 2-3 hours long depending on the size of the house and you're invited to follow along with your inspector.

WHY CHOOSE ACADIANA HOME INSPECTORS?

We take great pride in every inspection we perform. When the inspection is complete, your inspector will provide a detailed inspection report that will include a 90 day limited home warranty for your peace of mind. The inspector will tag major components throughout your home, such as main water and natural gas shutoffs.

Call us today @ 337-326-5772 to book your home inspection!
Louisiana Areas Served by Acadiana Home Inspectors
Services & Areas of Expertise
*90 day limited home warranty

*FREE termite inspection

* Mold inspection & testing available

* Infared inspection available

* swimming pool and spa inspection available

Education & Credentials
LSBHI # 10752
interNACHI certified
State of Louisiana mechanical and mold Lic
AHIT certified
Memeber of the Acadiana Mortgage lenders association
Member of Acadiana Realtors association