Double Check Home Inspections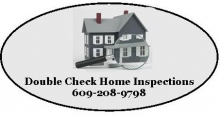 Double Check Home Inspections
Rick Lobley
PO Box 628
Allentown, NJ 08501

Phone: 609-208-9798
Email: Click Here

Description of Services
Double Check Home Inspections is proud to serve New Jersey's Real Estate Inspection needs. Your NJ Home Inspector !!

Double Check Home Inspections is the premier home inspection company in New Jersey. We have been trusted by home buyers to help them make informed buying decisions.

We take great pride in every inspection that we perform. When the inspection is over, we will prepare a detailed inspection report regarding the property. You will also receive a complimentary Home Tips Manual with your report.

Call us today at 609-208-9798 to book your home inspection today!


New Jersey Areas Served by Double Check Home Inspections
Education & Credentials
ASHI Certified Member 200573
NJ License # 24GI00017800
NJ Licensed Radon Measurement Technician