Mundy's Home Inspection Inc.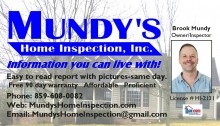 Mundy's Home Inspection Inc.
Mundys Home inc
2336 Dogwood Trace Blvd.
Lexington, KY 40514

Phone: 859-608-0082
Email: Click Here

Description of Services
We have been giving clients information they can live with since 2003. Buying a home in Lexington, KY or central KY? The process can be stressful. A home inspection is supposed to give you peace of mind, but often has the opposite effect. You will be asked to absorb a lot of information in a short time. This often includes a written report, checklist, photographs, environmental reports and what the inspector himself says during the inspection. All this combined with the seller's disclosure and what you notice yourself makes the experience even more overwhelming. Providing Home Inspections in the following Kentucky Cities and Vicinities:

Danville, Harrodsburg, Georgetown, Lancaster, Lawrenceburg, Lexington, Midway, Nicholasville, Versailles, Wilmore


Providing Home Inspections in the following Counties:

Anderson County, Boyle County, Fayette County, Garrard County, Jessamine County, Mercer County, Scott County, Woodford County
Services & Areas of Expertise
New construction, older homes, Farms, Pre listing, Foreclosures, relocation, consultation.
Education & Credentials
State HI# 102910
Member of LBAR
Member of KREIA
In business since 2003