Alpha Home Inspections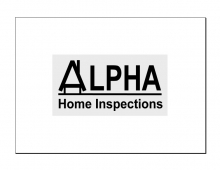 Alpha Home Inspections
Robert Robson
PO Box 6195
Branson, MO 65615

Phone: 417 334-7047
Email: Click Here

Description of Services
Buying a home in a suitable condition doesn't have to be a gamble. Whether you are buying a newly constructed home or an existing home, employing a qualified and caring home inspector is a vital step in all home purchases.

Alpha Home Inspections is an independent inspection company not affiliated with any Realtor company or builder. All my clients can feel confident there inspection and report will be thorough and un-conflicted by any outside influence.

I completed training with American Inspector Society in 1999. I have been a member of InterNACHI in good standing since 2005. InterNACHI members are required to complete 24 hours of continuing education every year as well as adhere to strict standards of practice and a code of ethics. Before becoming an home inspector, I have 18 years experience in the building and remodeling trades with extensive experience in plumbing and roofing.

Alpha Home Inspections has been serving the Branson, Tri-Lakes area Since 1999 and has completed hundreds of inspections in Taney, Stone and Christian counties.

It is my goal to provide each of my clients with the most complete and unbiased information regarding a homes condition, in turn, allowing my clients the opportunity to make a well informed decision to purchase a home in a suitable condition for there needs.

New Home Inspection

Many home buyers have the idea, by purchasing a new home rather than an existing one, they can avoid buying a home with "Someone else's problems". This is NOT always the case. The fact is, only a small percentage of new homes have been inspected for defects by a local building official. A home inspection is often the only way to receive objective information on that newly constructed home before you buy it, and, all of the homes possible issues.


What is Inspected

Roof covering, vents, flashings, and trim,
Gutters and downspouts,
Skylight, chimney and other roof penetrations,
Decks, stoops, porches, walkways, and railings,
Eaves, soffit and fascia,
Grading and drainage,
Basement, foundation and crawlspace,
Heating systems,
Cooling systems,
Main water shut off valves,
Water heating system,
Interior plumbing fixtures and faucets,
Drainage sump pumps with accessible floats,
Electrical service line and meter box,
Main disconnect and service amperage,
Electrical panels, breakers and fuses,
Grounding and bonding,
GFCIs and AFCIs,
Fireplace damper door and hearth,
Insulation and attic ventilation,
Garage doors, safety sensors, and openers,

(This is not an exhaustive list)

All inspections and reports meet and exceed American Society of Home Inspectors and NACHI (National Association of Certified Home Inspectors) standards of practice.

Cost for Inspection

Every home is different with varying factors such as it's age, features, and type of construction. Giving a blanket fee for inspection, although convenient, may not be fair to all clients. I prefer to conduct a brief interview with potential clients so an accurate and fair fee for inspection is established.
PLEASE SCROLL TO BOTTOM OF PAGE TO CONTACT FOR MORE INFO OR FEE QUOTE.

Inspection Report

Delivery of your report is performed electronically via the Internet, using Report Host and your E-mail address. Reports are stored on Report Host's server and can be referred to for a period of 120 days. After 120 days your report will be archived. Your report will gladly be re-activated for an additional 120 day period just Contact Us. Clients that do not have Internet access need not worry, we are happy to deliver your report in the conventional paper form as well. A backup copy of your report is also available on CD upon request.
View Sample Home Inspection Report

Alpha Home Inspections is the best choice for the individual that is relocating to the Branson Tri-lakes area, as well as someone who may be upgrading from there current home.



Missouri Areas Served by Alpha Home Inspections
Services & Areas of Expertise
Mold Survey & Sampling
Termite Inspection
Sellers Inspection
Septic Inspection
Education & Credentials
8 years inspection experience in California. 12 years inspection experience in Missouri.