The Michigan Home Inspector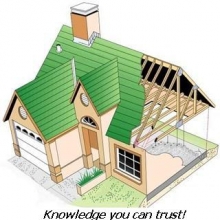 The Michigan Home Inspector
Dean Farner
10385 Rattalee Lake Rd
Gladwin, MI 48624

Phone: 248-860-3624
Email: Click Here

Description of Services
Are you buying or selling your Michigan home?

I service all of Michigan

Helping you protect your largest Investment

with Affordable Prices!

Quality, Professional Inspections



I will do a quality professional inspection of your home. I will assist you in the purchase, sale, energy audit or just the safety of your Michigan property. I offer inspections of residential, seasonal, multi-family, modular or rental property in Michigan. I will take my time and do a thorough inspection on all the different elements of the home and give you a written report with pictures attached. Then you will be able to make an informed decision on the purchase or sale of your home; where you and/or your family will make great memories.



A careful and well done inspection by a well-established inspector is very important! It could save you a very large amount of money.



My incpections of the following elements will answer all of your questions and I will have your report to you in a timely manner. I service all of Michigan and I am a member in good standing with the National Society of Home Inspectors and I am Michigan certified.



If you have any questions, please give me a call! Take time to check out all the components on my website as well as all of the services I offer in Michigan and you will find that I am not like the other Inspectors.



My Inspections covers all of the folling systems



Plumbing systems Inspection

Electrical systems Inspection

Insulation & Ventilation Inspection

Bathrooms & Kitchens Inspection

Heating & Air Conditioning Inspection

Basement & Crawlspace Inspection

Garage & Carport Inspection

Attic Inspection

Roof Inspection

Windows Inspection

Grounds Inspection

Pests Inspection

Site Inspection

Grading Inspection

Exterior Inspection

Interior Inspection

Structure inspection

Mold & Mildew Inspection

Radon Inspection

Septic & Well Inspection




Michigan Areas Served by The Michigan Home Inspector
Services & Areas of Expertise
My Inspections covers all of the folling systems
Plumbing systems Inspection
Electrical systems Inspection
Insulation & Ventilation Inspection
Bathrooms & Kitchens Inspection
Heating & Air Conditioning Inspection
Basement & Crawlspace Inspection
Garage & Carport Inspection
Attic Inspection
Roof Inspection
Windows Inspection
Grounds Inspection
Pests Inspection
Site Inspection
Grading Inspection
Exterior Inspection
Interior Inspection
Structure inspection
Mold & Mildew Inspection
Radon Inspection
Septic & Well Inspection


Education & Credentials
I offer inspections of residential, seasonal, multi-family or rental property homes. I take the time to look over the property to show you any current problems or possible problems that may occur in the future.



I am able to inspect properties from single families up to four units or apartments.



The Michigan Home Inspector provides:
An agreement before we start. It outlines what you can expect from our service.

A full report upon completion. This report will provide details on 20 different areas of the property, and will provide details of each area. Expect only the best.

Your report will be handed to you that day when the inspection is completed.

Qualifications

20 Years of Construction Experience
Two Years Plumbing and Heating
Extensive Knowledge of Building Codes
Graduate of Professional Home Inspection Institute
25 Years Experience in Fire Science
Certified, State Approved, and Insured
Passed the National Home Inspections Exam (NHIE)
I follow the strict regulations of the American Society of Home Inspectors (ASHI) guidelines. This will ensure that you will receive a quality home inspection.