Monroe Home Inspection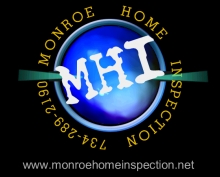 Monroe Home Inspection
Vaughn Hill
3168 Orchardale st
Monroe, MI 48162

Phone: 734-289-2190
Email: Click Here

Description of Services
Monroe Home Inspection is among the oldest and most widely-respected name in the home inspection industry. With thousands of properties inspected throughout Southeast Michigan, we have the experience and expertise to accurately assess the condition of your property. Our professional standards put a quality home inspection report in your hands for your "peace of mind" review before your purchase.

Monroe Home Inspection is committed to providing you, the client, with the most professional, honest and unbiased report possible. You will receive a computer generated narrative report complete with digital pictures and a summary section. "Average" inspection time at the property is 2-3 hours. A minimum of 1-2 hours will be spent putting your report together after the inspection. A verbal summary of the defects will be available at the time of the inspection. This report is easy to read and understand, and will be available within 24 hours of the day of the inspection. Reports average 20-30 pages and use the most comprehensive reporting system used in the industry. These detailed and unbiased reports allow home sellers to know what repairs they should make to put their home in the best showing condition and help home buyers to know what repairs, maintenance and improvements need to be made now and in the future.
Michigan Areas Served by Monroe Home Inspection
Services & Areas of Expertise


Home Inspection


This is when a professional home inspector comes to the property and performs a comprehensive and thorough examination over all of the major systems and structural components of the home to make sure there are no problems or large expenses that need fixed.


I will conduct a thorough inspection of your home, inside and out. The typical home inspection takes anywhere from 2 to 4 hours to complete.

I invite you to come along and watch as I inspect your home, and you are free to ask questions at any time during your home inspection.


Commercial Property Inspections
Commercial property inspections are performed in accordance with the ASTM Standards of Practice. Commercial property inspections are sometimes referred to as Property Condition Reports, Physical Needs Assessments, Physical Condition Assessments, or Physical Condition Surveys. A PCA is a visual and non-destructive assessment of the site and grounds, structural systems, the exterior surface including doors, windows, and signage, roofing systems, mechanical systems, electrical systems, and interior components, and pool/spa equipment where applicable.

Termite Inspection

Wood destroying insects and other organisms can cause serious problems in the wood structural components of a house and may go undetected for a long period of time. Subterranean termites are the most damaging insects of wood.



Radon Test

Radon is the leading cause of lung cancer for non-smokers. You cannot see, smell, or taste radon. But it still may be a problem in your home. Testing is the only way to find out your home's radon levels. If you find that you have high radon levels, there are ways to fix a radon problem.



Mold Test (Inspector will examine and test a specific area of concern in your home)
Mold Inspection (Inspector will examine all visible areas of your home)

Molds are part of the natural environment. Outdoors, molds play a part in nature by breaking down dead organic matter such as fallen leaves and dead trees, but indoors, mold growth should be avoided.



Swimming Pool Inspection

If your home has a pool, spa, or hot tub, you should have it checked to insure there are no leaks or other safety hazards. Knowledge of your pool will help you know how to keep it in good repair.



Single System Inspection

Don't need the whole house inspected? single system inspections are available for Roof, Plumbing, Electric, Foundation, etc.




Replacing a roof? Having a new home built? Remodeling a bathroom? Adding a deck?



We'll make sure your contractor does it right!



Have us stop by and check to see that the work is being done properly, before it's too late. Monroe Home Inspection can also approve the completed job before you make the final payment to the contractor.

Reasonable rates: To have a third-party, certified inspector look at your project.

We offer a variety of services:

*
Project and contractor oversight.
*
New construction phase inspections.
*
Final walk-through inspections.
*
1 year builder warranty inspections.
*
Annual inspections for home and commercial property owners.
*
Investor consulting.
*
Pre-listing, seller inspections.
*
Foreclosure inspections.
*
Insurance inspections
Education & Credentials
Over Twenty Years of Combined Experience


Monroe Home Inspection is owned and operated by Vaughn Hill, a full time certified - professional property inspector. Having over twenty years experience in residential real estate, I know what to look for during an inspection. I apply this extensive experience combined with continuing education and a solid reporting system to ensure a thorough inspection and customer peace of mind.



Guaranteed - NO CONFLICT OF INTEREST

I have no interest in fixing or repairing the defects or deficiencies uncovered during your inspection. I am a full time inspector, which allows me to remain objective and unbiased. My inspections are designed to educate you (the client) and provide factual information from which you can make informed decisions.



On-site Consultations and Continuing Customer Support

At the conclusion of your inspection, I will provide you with an on-site consultation outlining aspects of conditions and findings. You will have an opportunity to ask questions before I leave the property. I continue my customer support by offering unlimited follow-up phone consultations - if you have any questions after the completion of the inspection, I am here to answer them.



Computer Generated Reporting System Exceeding All Current Standards

Professional Real Estate Inspection Associations, such as ASHI and NACHI, have set high quality industry standards for ethics, standards of practice and inspection reporting to help maintain professional integrity. I am committed to surpass all minimum requirements.