Realty Check Inspection Service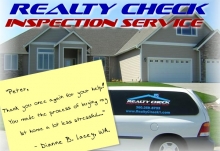 Realty Check Inspection Service
Peter Doane
1910 E. 4th Ave.
Olympia, WA 98506

Phone: 360-359-8733
Email: Click Here
Website:
Description of Services
Realty Check Inspection Service is a fully qualified, trained and certified property inspection company that protects buyers, sellers, lenders, brokers and agents alike. Through our background and education in the construction building materials industry and our commitment to continued education in the property inspection field, we can provide an accurate and thorough visual inspection service on any size property. Our service includes a computer generated report that details any visual findings that could affect your initial assessment of the property prior to the consummation of the sale, including (if needed) full color digital photos. The report is expedited to you electronically so you can keep going forward in your transaction. The report will includes NACHI Standards of Practice so you will better understand the inspection process and know what to expect from us in regards to our service.

My philosophy on inspecting your future home is simple, I will inspect it as if my own family would be living there insuring all issues are addressed to your satisfaction. I am a FULL time home inspector and perform 300+ inspections a year. I am based in the Olympia area but have a 60 mile (no extra charge) service radius.

When you need an inspection, please call on the professional services of Realty Check Inspection Service, where you are guaranteed fast, reliable service at reasonable rates.

Washington Areas Served by Realty Check Inspection Service