Proenergy Consultants of Shelby Twp, Inc.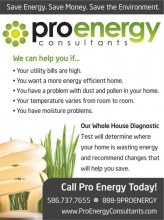 Proenergy Consultants of Shelby Twp, Inc.
Ron Stolicki
14465 Doebler Drive
Utica, MI 48315

Phone: 586-737-7655
Email: Click Here

Description of Services
Proenergy Consultants offers independent and comprehensive Energy Auditing. Our service provides unbiased, non-destructive testing for the sole purpose of helping the homeowner or small business owner. The typical service goal is to reduce high utility expense and correct seasonal discomforts within the home or place of business (i.e. hot or cold rooms, draft areas, moisture or dust problems). A Proenergy audit is worthwhile regardless of structural age and should always be the first step before investing in efficiency upgrades! Our auditing process will provide an accurate assessment with valid solutions supported by building science. A systematic approach protects the owner from being misguided in the expensive world of home improvement.
Michigan Areas Served by Proenergy Consultants of Shelby Twp, Inc.
Services & Areas of Expertise
Energy Auditing for homeowners and small business owners. Proenergy accurately identifies structural faults related to energy efficiency and seasonal discomforts.
Education & Credentials
 26-year career history related to mechanical engineering and technical services
 Corporate trained by Proenergy Consultants, LLC
 BPI Certified Professional - Building Analyst #CAN11259
 A Liability Insured Business
 Registered & Accredited with the Better Business Bureau
 Registered with the Service Magic Professional Network
 Member - Rochester Regional Chamber of Commerce
 Member - Sterling Heights Regional Chamber of Commerce
 Registered with DTE Energy - Energy Efficiency Business Directory