Professional Viewpoint Inspections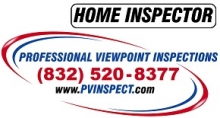 Professional Viewpoint Inspections
James Wicker
Brandy Creek Ln.
Fulshear, TX 77441

Phone: 832-520-8377
Email: Click Here

Description of Services
-If you're looking to buy or sell a home in the greater Houston, Texas area, then you have come to the right place for a home inspection.
-Professional Viewpoint Inspections is your key to saving you money by visibly identifying problem areas before you buy or sell.
-My philosophy is to inspect each home with the utmost care, to be thorough, and to explain my findings clearly on my easy to understand inspection report.

>I am comitted to quality and professionalism.
>I am licensed through the Texas Real Estate Comission (TREC Lic. 10209).
>I am fully insured.
>I will provide you with a Home Inspection Report that is:
-Computer generated with digital color photos that include identifiers (arrows and/or circles) on the photos to help you easily identify specific deficiencies.
-Clear and easy to understand.
-Completed and ready to be viewed "online" (no bulky emails)within 24-48 hours after the inspection.
-After I have completed your home inspection, you will feel confident that I was thorough and had your best interest in mind.

Contact me if you have any questions about my services. I look forward to hearing from you.
Texas Areas Served by Professional Viewpoint Inspections
Services & Areas of Expertise
Texas Licensed Professional Real Estate Inspector #10209
Education & Credentials
-Texas Real Estate Commission (TREC) License #10209 - Professional Real Estate Inspector
-Member: Texas Association of Real Estate Inspectors (TAREI)