Priority Plus Inspections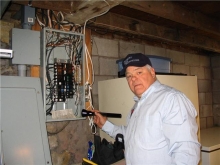 Priority Plus Inspections
Joel Willaby
3752 Q Ave.
Chelsea, IA 52215

Phone: 641-485-0215
Email: Click Here

Description of Services
Priority Plus Inspections LLC.
One profesional inspection at a time.
Complete home inspection with the entire home from top to bottom inspected.
Twenty six page Electronic report with digital photos of proper and inproper aspects of the home E-mailed to the realtor and buyer.Each room and aspect of the home is on it's own page explaining the condition and age or size.There are over 400 differant items checked at each inspection including the furnace for C O levels.This inspection meets or exceeds all ASHI standards.
Iowa Areas Served by Priority Plus Inspections
Services & Areas of Expertise
Photos taking and placed in the report.
The inspection is visual and of health, safety and structure of the entire home.
Education & Credentials
A-HIT CERTIFIED HOME INSPECTOR
MEMBER OF NACHI
Member of CRAAR