A-Pro Home Inspection Service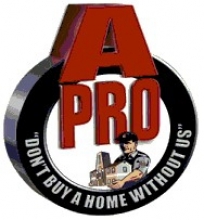 A-Pro Home Inspection Service
Larry King
1860 Barnett Shoals Road
Athens, GA 30605

Phone: 706-310-9092
Email: Click Here
Website:
Description of Services
For over 15 years, A-Pro Home Inspection Service has helped its clients make smarter, better and more informed decisions as they bought or sold a home.

A-Pro understands that your home is your most valuable asset, we aim to provide all of our clients with the highest level of Service possible.
My 500 point inspection includes an inspection of the structure,roof,exterior, electrical,HVAC,plumbing, insulation,interior,and appliances. I guarantee my inspection for 120 days and I am INACHI and ISHI certified. I provide radon, Indoor Air Quality and mold testing. I am a certified and professional home inspector.

Georgia Areas Served by A-Pro Home Inspection Service