Larry's Home Inspection and Consulting Service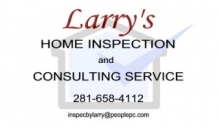 Larry's Home Inspection and Consulting Service
Larry Zatopek
6325 Kamas Lane
Needville, TX 77461

Phone: 281-658-4112
Email: Click Here

Description of Services
Larry B. Zatopek
Texas Professional Inspector License #7004

Inspections types:
Residental Inspections for Buyers and Sellers.
(Includes: Manufactured homes,apartments and Condominiums)
New Home Phase Construction inspections
Remodeling and Quality Control inspections
One year warranty inspections
Commerical Real Estate inspections
Home maintenance advise

WHAT CAN AN INSPECTION DO FOR YOU.
As a Buyer: A real estate inspection can help reduce some of the risk involve in the purchase of a home or business. A visual and operational inspection will be preformed on the estate, followed with a written detailed report describing the issues found during the inspection. The inspection report can aid you in determining your next step towards an estate purchase or lease.
As a Seller: You should conside having a real estate inspection preformed on your house, apartment, condominium or place of business before placing it on the market. The report will help indentify those problems and or upcoming issues that could hinder a potential sale or lower your desired asking price.

Home consultant (Advisor)
Need ADVISE on a Home Project or Home Maintenance Issue?
Are you concerned about the known or unknown problems with your home or business and need someone to talk before calling on a contractor.
Are you a do-it-yourself type person and need a little guidance?
Are you planning ato have a contractor work on a special project involving your home or business? You may think about having an inspector help watch over the constractor and insuring the work quality is met anf that codes are followed.


Services & Areas of Expertise
Service areas:
Fort Bend County
Harris County
Wharton County
Plus surrounding areas named above.

Education & Credentials
Licensed through The Texas Real Estate Commission (TREC)

Houston Association of Realtors
(Affiliate Member with Supra Key)