goodhomeinspector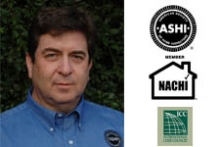 goodhomeinspector
Gene Ballin
1779 Kirby Pkwy 115
Arlington, TN 38138

Phone: 901-355-9370
Email: Click Here
Website:
Description of Services
There is a reason why over 3000 home buyers within the Memphis, West Tennessee and North Mississippi areas have hired me as their Home Inspector. It is because I am dedicated to my clients individual needs and my goal is to complete your Home inspection in a manner you will instinctively refer me to any family member or friend without any reservation. Even my competition refers me if they can't get to an inspection, because I am looked upon as an inspector that is thorough, knowledgeable and precise. What did you do prior to home inspection?
Repair homes, I still actively repair homes and maintain a contractors license in MS and TN for the Home Building, Plumbing, and HVAC trades. Because of my diverse background and experience I am considered by many to be an excellent troubleshooter and a walking knowledge base when it comes to homes and home defect issues. Nicknamed 'Webster', I often receive calls from clients, loan underwriters, appraisers and real estate agents when they have questions pertaining to houses or if they are buying a house for themselves or a family member.
Tennessee Areas Served by goodhomeinspector
Services & Areas of Expertise
Home Inspection Service for Memphis, Shelby, Fayette, West Tennessee, Nesbit, Southaven, Olive Branch, Eads, Millington, Atoka, Collierville, Germantown, Desoto, Tate, Marshall and North Mississippi areas
Education & Credentials
I am a ASHI certified inspector. In addition to American Society of Home Inspectors am a certified inspector with National Association of Certified Home Inspectors, International Code Council as a residential code inspector and the National Pool and Spa Foundation as a certified pool inspector.