Apex Real Estate Inspectors, Inc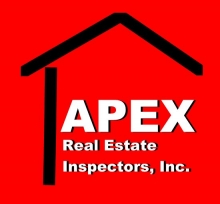 Apex Real Estate Inspectors, Inc
Chuck Luellen/ Nick Flores
5155 Riverdale Ave
Denver, CO 80229

Phone: 303-840-2477
Email: Click Here
Website:
Description of Services
Since 1999, APEX Real Estate Inspectors, Inc has been inspecting homes and commercial properties valued from $65,000 to $4 million. We have performed thousands of inspections with satisfied clients. If you are selling, buying and/or investing in a home, condominium, town house, manufactured or mobile home in Colorado, let our professional team give you an accurate report detailing hundreds of items. We could save you thousands of dollars and create the confidence and peace of mind needed to purchase your new or improved home. As well as new builders construction properties.
Colorado Areas Served by Apex Real Estate Inspectors, Inc
Services & Areas of Expertise
Denver Metro area and entire Front Range! The APEX Real Estate Inspectors team does more than just walk around your home. We look for items that are or will be major/minor repairs, general maintenance concerns, health and safety hazards, and items that are deferred costs for the future. We offer full home inspections, new home construction inspections,
customized commercial properties inspections, radon testing pre-sale inspections, inspections designed for lenders, custom inspections available.
Education & Credentials
Certified Graduate of Inspection Training Associates' (ITA) and a NAHI Member and past member of the Rocky Mountain Chapter Board of Directors. An extensive background as a licensed contractor and is tested in Safety and Building Codes, Project and Financial Management, Insurance and Bonding, Personnel Regulations, Lien Laws, Materials, Tools, Equipment, Installation, Estimating, Bidding, and Contract Management. Trained as a Damage Prevention Technician for underground utilities that meet the training standards for the National Utility Locating Contractors Association, U.S. Department of Transportation.