ALLPOINTS Home Inspections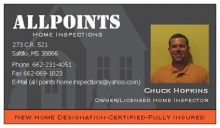 ALLPOINTS Home Inspections
Chuck Hopkins
273 County Road 521
Saltillo, MS 38866

Phone: 662-231-4051
Email: Click Here

Description of Services
ALLPOINTS Home Inspections is the #1 home inspection company in North Mississippi. We offer high quality home inspections and fast servive. We work for the Home Buyer, we do not work for the seller... At ALLPOINTS Home Inspections, you can rest assured that you are buying a property that has been inspected to the fullest. We only use the highest quality inspection software, so we can print it and hand deliver your inspection or e-mail it anywhere in the world. Our inspections have all high quality photos and recommendations for each and every issue that we find in the home. So, if you want a first class home inspection at a fair price call
ALLPOINTS Home Inspections.
Mississippi Areas Served by ALLPOINTS Home Inspections
Services & Areas of Expertise
ALLPOINTS Home Inspections covers all of North Mississippi. From the Tennessee state line to the Alabama state line and all the way to Columbus.
WE DO NOT INSPECT IN ALABAMA OR TENNESSEE.
Education & Credentials
Mississippi Licensed Home Inspector

Mississippi Licensed Home Builder

Member of The National Association of Realtors

International Code Council Designation

Fully Insured

17 Years Experience in Home Construction