Pioneer Home Inspections & Environmental Consulting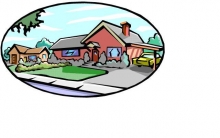 Pioneer Home Inspections & Environmental Consulting
Curtis Ryen
500 West First Street, Taylorville
Tovey, IL 62568

Phone: 217-820-0481
Email: Click Here

Description of Services
Home inspections with on site reporting. Insured through American Family Insurance. Required Continuing Education maintained through American Home Inspector Trainnig Association. Approved to perform FHA/VA inspections, Rural Development inspections, Fannie Mae/Freddie Mac inspections, and all routine inspections. Environmental testing in MOLD & Residential Asbestos. We provide both testing and consultation on containing and/or removing in accordance with IDPH and EPA guidelines. We accept CASH, check, VISA, MasterCard, and Discover.
Illinois Areas Served by Pioneer Home Inspections & Environmental Consulting
Services & Areas of Expertise
Inspections, Environmental Testing and Consulting on removal or containment procedures.
Education & Credentials
Home Inspector
Mold Awareness, Testing, and Removal
Asbestos Worker & Supervisor
Lead Removal Worker
HVAC Certified Technician w/ EPA certification