SUSSEX COUNTY HOME INSPECTIONS & RADON TEST 301-717-1454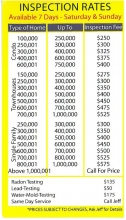 SUSSEX COUNTY HOME INSPECTIONS & RADON TEST 301-717-1454
Jeffery Pace
12901 Larkin Place
Lewes, DE 19947

Phone: 301-717-1454
Email: Click Here

Description of Services
We are a full service home inspection business with over 20 years of hands on inspection experience, same day service 7 days a week 7:00 a.m. to 9:00 p.m. daily. Our rates are very reasonable & our prices have not changed for over 10 years. We service Maryland, Washington D.C., Virginia, Delaware. We are licensed and insured, we accept checks, usps money orders & cash only. We also offer environmental testing including radon, mold, asbestos, water & lead testing. SERVING ALL of SUSSEX COUNTY & SURROUNDING AREAS INCLUDING THE DISTRICT of COLUMBIA. Maryland,Washington D.C.,Delaware,Northern Virginia
Mention this ad & receive $25.00 OFF any Home Inspection! If you have any questions contact us at (301)-717-1454
WE ALSO OFFER TERMITE INSPECTIONS & CERTIFICATIONS.
Delaware Areas Served by SUSSEX COUNTY HOME INSPECTIONS & RADON TEST 301-717-1454
Services & Areas of Expertise
We can take care of all your home inspection needs as well as environmental testing including radon, mold, asbestos, water & lead testing. SERVING ALL of SUSSEX COUNTY & SURROUNDING AREAS INCLUDING THE DISTRICT of COLUMBIA. Maryland,Washington D.C.,Delaware,Northern Virginia Take $25.00 OFF any Home Inspection! If you have any questions contact us at (301)-717-1454

Education & Credentials
Maryland Home Inspection #30905
11/2009 Public & Indian Housing-Real Estate Assessment Center (PIH-REAC) HUD M#GZ573
07/14/2009 District of Columbia Real Estate License #SP696155
06/24/2009 State of Maryland DLLR Commission of RE Appraisers & Home inspectors #30905
05/07/2009 National Home Inspectors Examination #DC0998014797
03/2009 Kaplan Technical School 72 hour classroom training #MD72HR0309
12/12/2008 Public Notary State of Maryland
03/27/2007 State of Maryland DLLR Real Estate Commission #624233
01/31/2004 Building Specs New Construction Course #MDR-01-31/01
12/03/2003 Building Specs 48 hour home inspection & environmental testing #MD-12-01-14