R Eyes Home Inspections #9501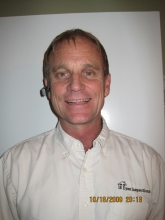 R Eyes Home Inspections #9501
Robert Flaa
3000 Santa Monica
Denton, TX 76205

Phone: 940-390-4083
Email: Click Here

Description of Services
Fort Worth & Dallas Texas Home Inspector Providing the Very Best Detailed Home Inspections DEDICATED to providing you, our valuable clients, "peace of mind" by helping you to validate your real estate decision
Give R Eyes Independent Home Inspections 5% of your trust and we will Earn the other 95% with our detailed Professional Home Inspection report.
R Eyes Independent home Inspections will give you peace of mind and assist you in a fair and smooth transaction from the beginning. We thoroughly enjoy educating our clients in this process as customer service is our highest priority.

Texas Areas Served by R Eyes Home Inspections #9501
Services & Areas of Expertise
Dallas, Fort Worth,Keller,Frisco and surrounding areas
Education & Credentials
Over 30 years of Construction Experience
Texas Certified Professional Home Inspector TREC #9501
experienced remodeler/builder licensed by the Texas Residential Construction
Homeland Security Clearance and FEMA experienced home Inspector
Certificate of Insurability (Vip Home Inspector)
Long time pool experienced for your pool inspection CPO licenced