LAKE HOME INSPECTION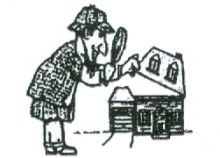 LAKE HOME INSPECTION
Larry Lake
2127 Garden Street
Tonkawa, OK 74601

Phone: (580) 762-1125
Email: Click Here

Description of Services
Larry Lake - Owner of Lake Home Inspection business located in Ponca City, OK. Larry is truly independent and will work for you the buyer 100% and not the Agent or the Seller to avoid a conflict in interest. Larry Lake has been in the business over 13 years and experienced many things and has traveled on a few occasions to do a home inspection up to 600 miles round trip. Larry has been called by people as far away as California and New York to do a inspection here in Oklahoma. The buyers from those distance states found Larry on the web and by work of mouth and he was highly recommended. Larry takes pride in doing a job well even if it takes several hours. He will not cater to Agents or Sellers just to help them make the sale. He will however treat everyone as a professional but never sacrifice his character.
Oklahoma Areas Served by LAKE HOME INSPECTION
Services & Areas of Expertise
Larry Lake does complete home & building inspections that will include digital photos to document problems on a custom report. He is also certified to do radon and mold testing, and Infrared Inspections.
Education & Credentials
Larry Lake took his training at Charles Barnes Real Estate & Appraisal School March 1999. He has since became a certified member of NACHI, ESA, NEHA, IHINA, and AARST. He is licensed by the state of Oklahoma #108