North Country Home Inspections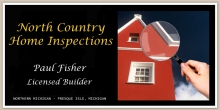 North Country Home Inspections
Paul Fisher
10406 Maple St
Millersburg, MI 49777

Phone: 989-595-2311
Email: Click Here
Website:
Description of Services
North Country Home Inspections is a home and property inspection company located in Northern Michigan. The owner, Paul Fisher, is a certified member of the American Society of Home Inspectors (ASHI) and is a licensed builder with more than 28 years in the construction industry. North Country Home Inspections provides the most thorough, well documented inspection of stick and modular built homes as well as pre-build inspections of property anywhere in Northern Michigan. Four hour inspection covers every major component of your home, includes photographs to help you see beyond the obvious... from foundation to roof, the plumbing, electrical, furnace and a/c systems and more!
Michigan Areas Served by North Country Home Inspections
Services & Areas of Expertise
Expert in manufactured and modular housing.
Inspection includes:
- Building Site
- Exterior
- Foundation & Crawlspace
- Structural Components
- Plumbing Systems
- Electrical Systems
- Heating & Air Conditioning
- Interior Components
- Insulation & Ventilation
- Chimney & Fireplace
Attic
- Roof Covering & Gutter System
- Garage/Parking Area
- Issues of Safety
- Personal Service & Industry Expertise
- Digital Photos can be added to your inspection report
Education & Credentials
Certified member of the American Society of Home Inspectors (ASHI)
and
Michigan licensed builder.