HomePro Home Inspections of Georgia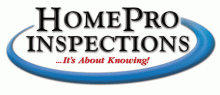 HomePro Home Inspections of Georgia
Mark Lotane
P.O.Box 6034
Athens, GA 30604

Phone: 770-725-9245
Email: Click Here

Description of Services
20 year veteran in the Inspection Industry providing Commercial Building and Residential Inspections, Mold & Moisture testing using Infra Camera Technology (Thermal Imaging), Radon Testing. Inspection Reports and Photos delivered by email (usually the same day!)
We are a multiple inspector firm which allows us to respond quickly to your schedule & time frame.
We are also a Green building consultant and can perform comprehensive Energy Audits of your building which includes a Blower Door Test and Infra Red Camera Scan. The combination of these tools allows us to pinpoint precisely where your structure is leaking energy. We then give you a detailed scope of work explaining how to correct the issues. We will help you find the contractors to do the work, and then do follow up testing & inspections to be sure the home is now energy efficient.
770-725-9245
Georgia Areas Served by HomePro Home Inspections of Georgia
Services & Areas of Expertise
Our specialty is pre-purchase home inspections as a due diligence protection for the residential and Commercial buyer. We also perform phase inspections as homes are being built. We enjoy & are proficient at inspecting everthing from brand new to 100 year old properties.
We do energy audits and give advice on how to "go Green".
Education & Credentials
All inspectors are fully trained and experience in all phases of inspecting buildings.
We have ASHI & GAHI certified inspectors on staff. Our Inspectors have all passed Building Code Certification testing and hold the International Building Code Certification.
We have a level I Thermographer on staff (trained in the use of Infra Red Cameras.)
We also have a HERS certified energy rater.