Alpha Inspection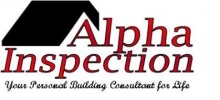 Alpha Inspection
Charlie Sessums
110 Woodlands Park Dr.
Flowood, MS 39047

Phone: 601-992-4142
Email: Click Here

Description of Services
Make your move easier, allow Alpha Inspection to help you in your move. You will not only receive a thorough inspection, an easy to read report but you will also have it all readily available through online services.

When you are ready to hire your inspection company, be sure to check out our website and the list of questions to ask when hiring an inspector. This is especially important if you cannot attend the inspection.

What about after you move? Alpha Inspection becomes your personal home consultant. We are available to answer questions about your home and to help you find the services you need in your new town.
Services & Areas of Expertise
Alpha Inspection is a full service inspection company. There are special offers, programs and opportunities for:

New Construction
Commercial Construction
Investors
Litigation

Your inspection can be tailered for your specific needs.
Education & Credentials
Our inspectors not only complete the state required training but are also required to complete the "Alpha Training" which includes over 50 hands on inspectors with the owner. Training is continued monthly and reports are monitored on a radom, weekly basis.

Alpha Inspection also has inspectors licensed for new construction. This is a separate license in Mississippi.

Owner Charlie Sessums has been appointed to the Mississippi Home Inspection Regulatory Board. He also helped write the new, national home inspector's exam.